At Donor360, we connect donors to causes that matter through our innovative, ethical eShops. We are always looking for new ways to improve user experience on our platform - more movement in our eShops means more funds raised for causes that matter.
Recently, we added upgrades to our eShops based on feedback from our customers. These upgrades give fundraisers more control over the look and feel of their eShops. If your organization has been searching for new nonprofit fundraising ideas, there has never been a better time to start a Donor360 eShop.
The New Donor360 eShop: A Powerful Nonprofit Fundraising Idea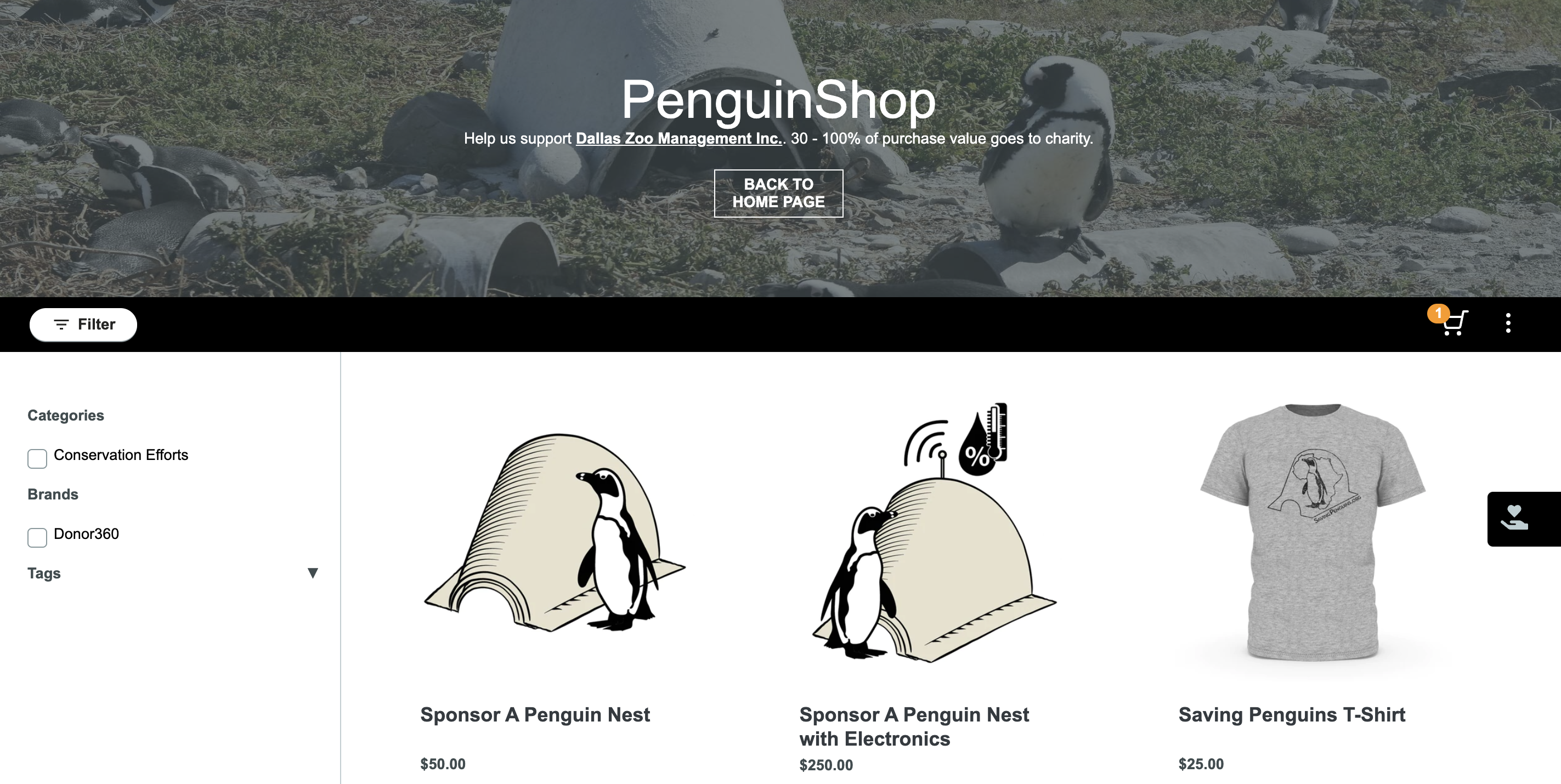 A Donor360 eShop gives charities and nonprofits the power to connect to networks of motivated donors. Our eShops are now even more customizable so that they can echo the branding of your nonprofit, brand, or corporation. New banner options are now available, as well as updated shortcuts to enhance user experience on the platform.
Sell from your Website with a White-labeled eShop
One of the most exciting capabilities of the new eShops is the option to white-label your eShop to match your website's branding. Our eShop embed code automatically pulls your website's fonts, styles, and colors so that it matches your website seamlessly. You can create your own store on the eShop builder in a matter of minutes and have it up and running in no time, with no need to buy or store inventory. It's truly the easiest way for charities to start stores of their own.
Tell Your Story with Customizable Banners
No matter how you choose to host your eShop, you have the option to add an engaging banner image that can also be customized. You can now choose the display size of your banner image; small, medium, or full-page, to tell your story best. You can also add a customizable color overlay to tie into your company or nonprofit's color scheme. If you don't utilize banners on your website, or if you already have a banner in your website's header, you can turn off the banner option.
Engage Donors with Videos about Your Cause
To give donors a firsthand look at the programs or projects your charity is currently working on, you can add a YouTube or Vimeo video to your eShop page. You can choose to have the video play immediately when someone opens the eShop page, or you can include a play button that will be displayed on the eShop banner. If you choose to use the play button, you'll be able to customize the text on the button. If you choose this option, try using something intriguing for your button text. Something like "Recent Donation-Sponsored Rescues" would work well for a Humane Society. This is a great way to engage customers and show them exactly what programs their donations will go towards.
Drive More Sales with Improved Customer Experience
We have also updated the filter menu to make it simple for customers to shop according to their unique preferences. The filter menu is now hidden and will pop out when clicked on, making the eShop page less cluttered but easy to navigate. Filters include options like product category or brand, which make it easy for customers to find exactly what they are looking for.
Attract Attention with Key Product Values
Once you've set up the design of your eShop, you can choose which ethical and eco-friendly products you'd like to include in your fundraiser. When choosing your products, you'll notice we've added tags like "Certified Fair Trade" and "Certified Organic." These value proposition tags help conscious customers shop easier by quickly connecting with the ideals that are important to them. Ethical product values create an added incentive for customers to make repeat purchases of products they frequently use, like Fair Trade coffee or organic chocolate.
Encourage Donations with Automatic Add
Your eShop cart will now automatically include a $50 added cash donation that invites customers to amplify their impact. The cash donation can be increased, or of course removed, depending on customer preference. By including the cash donation in the cart automatically, customers are more likely to continue with the cash donation with their purchase.
Track Your Donations & Orders on the Dashboard
Our eShop dashboard is new and improved to easily track your donations and sales. We have included powerful analytic tools so you can continually optimize your shop. On the dashboard, you can see how much your eShop has made in a week, month, or year, as well as how many overall units have been sold. This information gives you the power to adjust your product offerings based on what donors like best, or even start fundraisers around specific products that do well in your eShop.
Make a Difference with Donor360
At Donor360, we pay careful attention to our customers' feedback and work hard to make improvements accordingly. We want to help you make a difference in the world, whether it is on the local, national, or global level. A Donor360 eShop is a powerful way to ignite change and connect with others who want to help. Now with new and improved upgrades, our eShops are ready to help you raise more funds than ever for the causes you care about.
To get started with an eShop today, register at donorthreesixty.com/signup.