Is your charity struggling to get the consistent revenue that you need? Do you find that the majority of your donations are clumped at the end of the year?
If so, you're not alone. Charities often find that one of the hardest barricades to break through is achieving consistent and sufficient funding. A potential solution to this is to passively raise money year-round, without using much extra time or work⸺something that operates mostly on its own, such as an eShop.
Benefits to Raising Funds Passively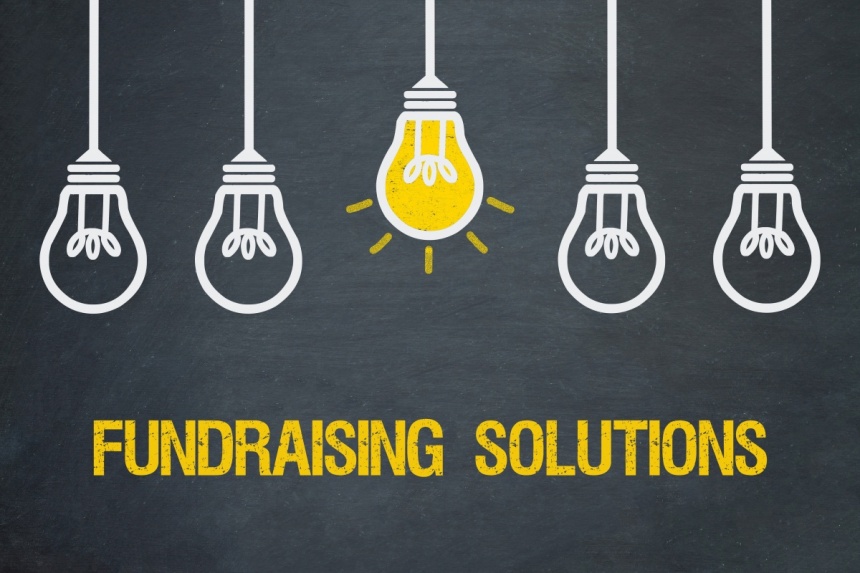 A passive funds builder is something that you can put energy and time into starting, but that runs mostly on its own once it is started. By tapping passive income streams, you'll be able to receive rolling contributions that you won't have to spend time and money on every time like you do for campaigns or events.
A lot of charities face problems with funding being clustered at particular times of the year, like during holidays or at the end of the year. By implementing passive income sources that operate year-round, you'll be able to offset this and gain steady flows of contributions.
An organization eShop can provide you with passive funding year-round as your supporters can buy products they need and gifts for loved ones through your site at any time. Selling quality, Fair Trade, organic, and vegan products can help ensure that your supporters get excited about your store and return to buy products they love. Once you set up your online store, it will always be there as a way for your customers to shop and support you.
What is a charity eShop?
An eShop powered by Donor360 is a store hosted on your website where your advocates can shop and support you. Without navigating away from your site, supporters will be able to purchase quality, Fair Trade, organic, and cruelty-free products and gifts. You will choose what you want to sell on your eStore from the Donor360 marketplace, which includes tons of items from sustainable brands with heart. For every purchase made on your site, you'll get 30-50% of what your supporters spend!
When supporters check out they will also have an option to add a cash donation, 100% of which will go directly to your organization. Your supporters will also love that they will receive an automatic tax receipt every time they purchase something.
Benefits of Raising Money Passively via a Charity eShop
By starting an eShop, you'll be tapping into the $430 billion US eCommerce market. It doesn't stop there though. Fundraising by vending awesome products through a charity eShop by Donor360 has so many benefits!
Open an online channel - Online giving is up by 23% this year, according to Double the Donation. If you're not already utilizing online fundraising, an eShop is one of the easiest ways to open an online flow of revenue. If you are, an eShop is a great addition for year-round, passive income.
Make 30-50% on each purchase - You might already be utilizing shopping tools such as Amazon Smile, Amazon Associates, or other merchandise sales to passively raise funds. These are great ways to gain funds, but organizations only get 1-10% of the purchase prices from these transactions. With an eShop by Donor360, your organization will get 30-50%!
Sell Products with No Risk - Because Donor360 handles all of the product warehousing, order fulfillment, and shipping, your organization will not have to take on any risk to open a shop. You won't have to buy any of your own stock and can start with no capital.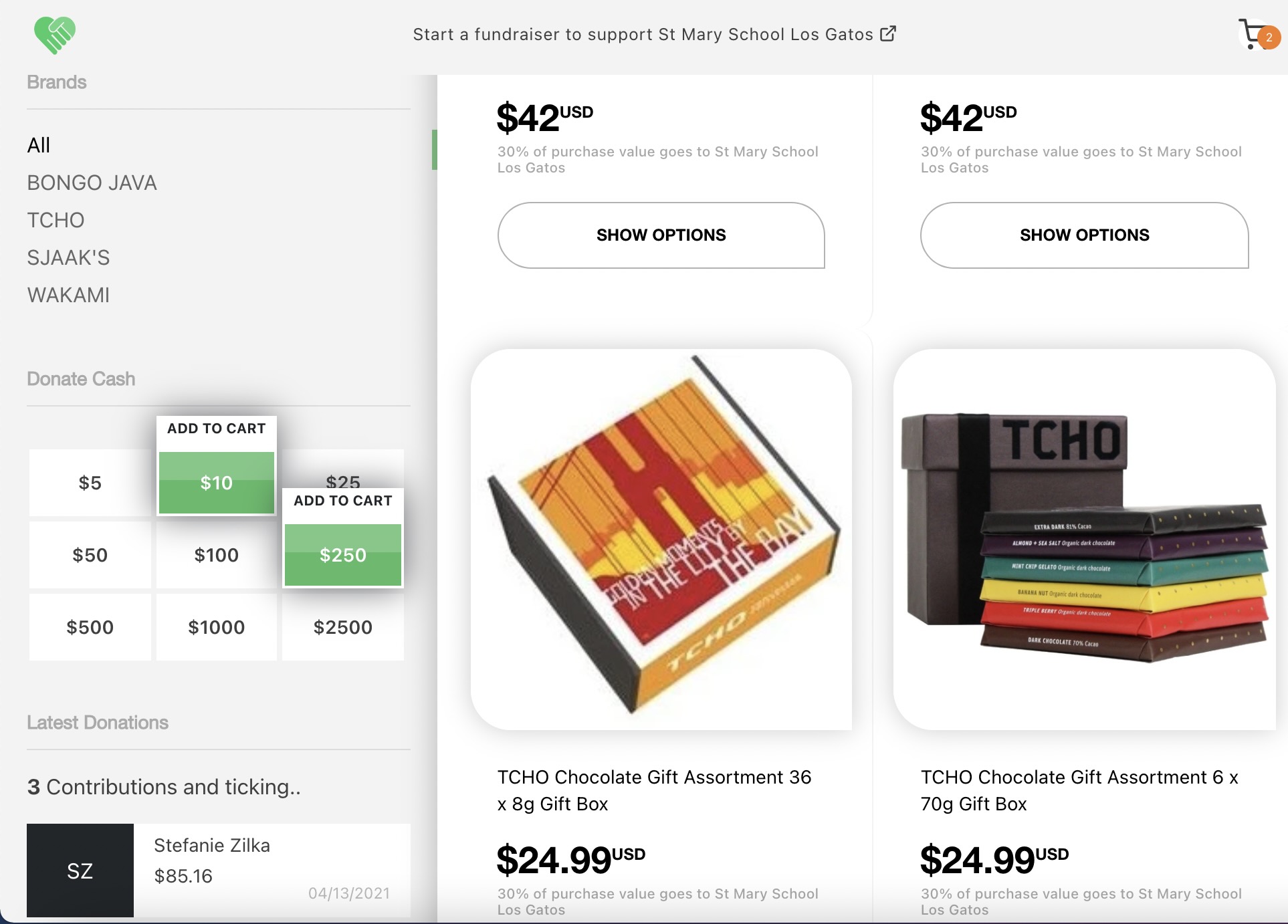 Ask for Cash Donations Easily - When your supporters check out, they'll automatically be asked if they want to add a cash donation. This is a great, passive way to ask for donations when your supporters already have their wallets out! Approximately 33% of supporters add a cash donation when checking out of an eStore. One hundred percent of cash donations will go directly to your organization.
Give your supporters a tax credit receipt automatically - You'll be able to help your supporters by giving them a donation receipt that they'll be able to use to get a tax deduction. These are generated automatically at checkout, so it doesn't require any extra work on your end!
Appeal to folks outside of your normal donor base - By having an eShop, you'll give people an extra reason to contribute to your organization. People who may not be your regular constituents that would just donate cash might be more enticed to contribute if your shop offers items that they want to buy.
Provide a way for people to buy Tribute Gifts - Tribute donations, or giving in honor of someone else, are a popular reason for people to give. In fact, about 33% of donors worldwide say they give tribute donations, according to Nonprofits Source. With an online shop, people can not only give in tribute to someone, but they can also gift their purchase!
Build a permission-based Online Donorbase - Every organization donor lead knows that having a strong list of loyal donors is key to long-term success. You'll be able to build an online database of your donors through your online sales, all of which will be permission-based.
Retarget Your Donorbase - Armed with a list of highly qualified previous supporters, you'll be able to retarget your donors via email or ads to ask for further donations, promote campaigns, or give them updates on how your organization is doing.
Increase your Donor Retention - Donor retention is one of the key ways to grow your revenue over time. By selling quality, Fair Trade, and organic products that your supporters will love and want to buy anyways, you'll help ensure that they come back again and again.
Give folks in your own organization a way to contribute - Because you'll be selling products that people in your organization might want to buy for themselves or others, you'll be able to give them a new way to support your organization internally! They'll be able to share with their loved ones how awesome the products are in your store too.
Inspire your advocates to fundraise on your behalf - You'll be able to add a call-to-action button on your store page to start a fundraiser to benefit your charity right on your store page. Your supporters will be able to click and start a fundraiser right away. You can even pre-configure the fundraisers with photos and products to make it easier for your advocates to start. Through these fundraisers, you can build your passive funding flow even further.
Other benefits to having an eShop powered by Donor360
In addition to growing your own contributions stream, you'll also be doubling your own efforts to create a better world by supporting Fair Trade, organic, and cruelty-free brands. By working with brands whose visions and morals align with yours, you'll build powerful allies and contribute to conserving the environment, ensuring fair living wages for all, and protecting animals from harmful testing practices.

Your supporters will love this too. As we can see from the success of Thrive Market and Sprouts, people want to shop for healthy, organic food and products online. Americans are showing a growing interest in Fair Trade products and people are willing to pay more for products that carry a Fair Trade label, according to this study. The same study also reported 76% of Americans view Fair Trade brands more favorably.
Read more in our articles about Why You Should Fundraise with Organic and Fair Trade Chocolate and Why Drinking Fair Trade and Organic Coffee Matters.
How to Set Up Your Charity eShop with Donor360
Ready to tap into this awesome source of passive revenue for your organization? If you haven't already, register with Donor360 as an organization here. Once you've registered, you'll be able to configure your eShop and add it to your site using our widget.
Need help or want more information about how to raise funds with Donor360? Contact our Fundraising Ambassador, Kristen, at kristen@donorthreesixty.com.